"The things you can't get from the books"
Our longest running course and founding Academy, we specialise in Parkinson's and other movement disorders.
Search Parkinson's Academy MasterClasses and Events
'The things you can't get from the books'
Parkinson's Academy, our original and longest running Academy, houses over 20 years of inspirational projects, resources, and evidence for improving outcomes for people with Parkinson's. Led by co-founder and academic director Dr Peter Fletcher, the Academy has a truly collegiate feel and prides itself on delivering 'the things you can't get from the books' – a practical learning model which inspires all Neurology Academy courses.
MasterClass projects have led to nationally used tools being developed, honorary qualifications being granted, and local services utterly transformed. Proven to have impacted services in a meaningful way and changed outcomes and quality of care for people with Parkinson's, every delegate documents their work to share their experiences and are encouraged to continue their work, with many supported to present it via journals or invited to present it to their peers.
To date, 41 MasterClasses have been held producing over 1,750 trained specialists in Parkinson's from across the UK and wider parts of the globe. Our MasterClasses mark the start of a professional journey - these peers support each other in a professional network by sharing experiences, inspiring excellence and seeking to transform tomorrow for people with Parkinson's.
Forthcoming Parkinson's Academy MasterClasses and events...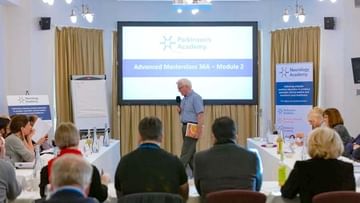 Parkinson's Advanced MasterClass 46 - Module 1
New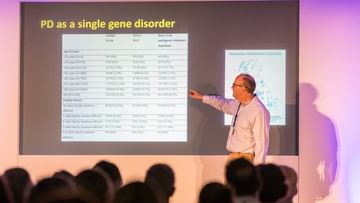 Parkinson's Foundation MasterClass 47
New
---
On Demand Webinars
Miss out on a webinar? Had to leave an event before a keynote speaker? Our catalogue of on demand sessions ranges from short videos and podcasts, to webinars and full events, giving you an opportunity to learn and develop in the areas that matter to you, in your own time...
---
About
Our longest running course and founding Academy, we specialise in Parkinson's and other movement disorders.
Parkinson's Academy offers a unique opportunity for healthcare professionals to receive expert training in Parkinson's disease.
Established in 2002, the delivery of Parkinson's MasterClasses is an innovative educational programme established by the Movement Disorder Section of the British Geriatrics Society (BGS). The MasterClass aims to provide a structured training programme for senior members of the medical profession who seek formal training in both the clinical and managerial aspects of running a 'Parkinson's service'.

The educational style of the Academy has been commended by the Department of Health (England) and by Parkinson's UK for providing unique clinical skills enhancement and service development.
At the start of 2022, 41 MasterClasses have been held producing over 1,650 trained specialists in Parkinson's from all four countries of the UK and a number of international delegates from Canada, Singapore, India, Australia and New Zealand. Whether you are a consultant, registrar, GP, experienced neurosciences pharmacist, specialist nurse, physiotherapist or other allied healthcare professional with an interest in Parkinson's, the aim is to build your confidence in managing the condition.
We do this by drawing on the expertise of leaders in the field who deliver top quality education in small groups and a relaxed atmosphere. The courses address both the clinical and managerial aspects of running a Parkinson's service, with input from a range of disciplines, and of course from patients themselves.
Not only does the Academy provide updates on the evidence base for managing Parkinson's and practical support on how to develop a Parkinson's service, but course graduates also tell us that the Academy is an invaluable opportunity to establish an ongoing network of peer support – not just in Parkinson's but in other rarer movement disorders too.
Advanced training also includes a mentorship programme, which means that individual support continues even after the residential course has finished.
The Academy MasterClass programmes are approved by the Federation of the Royal Colleges of Physicians of the United Kingdom. The Advanced MasterClass was awarded 23 category 1 (external) CPD credit(s) in 2021. Please note that the credits are subject to approval of the final programme.
We offer Foundation and Advanced MasterClasses in Parkinson's, plus other courses in specialised areas such a palliative care:
Foundation MasterClass
For non-final year registrars, SpRs, Parkinson's nurses within the first 18 months of post, pharmacists, clinical fellows and clinical lecturers.
Advanced MasterClass
For consultant physicians, Parkinson's nurses, staff grade physicians, final year registrars and experienced neurosciences pharmacists with an interest in Parkinson's wishing to advance their knowledge and skills in this area.
To understand which course level is right for you, please follow the link below for a detailed table.

Supporters
Our work is made possible because of the wider support we receive, and we are incredibly grateful. Thanks to that support, we are transforming healthcare and changing the lives of people living with neurological conditions.
Become a supporter
---
Articles
Parkinson's Academy
News and articles
Timely access to medication during in-patient stays for people with Parkinson's is essential - and an ongoing challenge for many hospitals across the UK. Evidence suggests that in hospital settings, people with Parkinson's often do not get their medications on time with anywhere up to 120 minute delays in administration. This results in worsening symptoms, longer stays, poorer outcomes and greater demand on services following that episode. 
Read more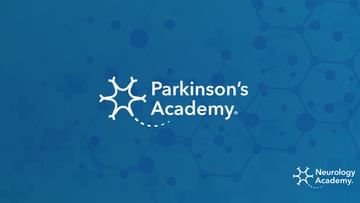 ---
People
Faculty - Our Stars
---
Projects
All MasterClass attendees carry out a workplace project as a key part of the course. This will be on an issue they choose in the area that they work.
All two-module MasterClasses include an intermodule project. This is a workplace project that attendees complete as a key part of the course.
Attendees have free reign over this project. It might be service delivery, patient management or drug treatments, and it could take the form of a service description, an audit, or another form of research. It should meet a local need.
When complete, the project closes with a presentation to the other course members, faculty, and often their managers, commissioners or other people of influence in their area. The group chooses a winner and runner up who receive an award at an evening event, and all projects are shared in our resources section.
---
Resources
Access Parkinson's resources and knowledge
Access a collection of resources for Parkinson's professionals, including COVID-19 information, webinars, podcasts, event reports and an archive of Academy newsletters.