Raising the Bar: July 2019–July 2022 – reflecting on the journey and looking to the future
News
---
---
3 years of Raising the Bar for MS
As we come towards the latter part of the 3-year plan for Raising the Bar it has become increasingly apparent that the clinical community is now best placed to take forward any remaining initiatives associated with the national work, and that MS Academy's involvement has come to an end.
Whilst Raising the Bar began as a clinician-led initiative, it quickly became an ethos which has seen MS-focussed healthcare professionals around the country inspired to lead change, share learning and to raise the bar for MS.
It is incredibly rewarding to see that much of the 3-year plan set out in 2019 has already been achieved, and with 6 months still to go! (fig 1).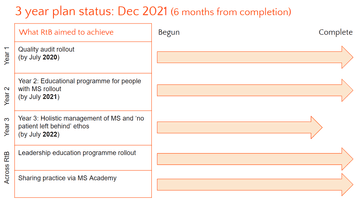 Figure 1: In brief: the Raising the Bar journey from 2018 to the present
The target of Raising the Bar was always that, through education and encouragement, healthcare professionals would be enabled and inspired to 'raise the bar' in their own way, and in their own locality, and it is wonderfully clear that this has occurred.
This report seeks to share with you the fantastic work and progress within Raising the Bar, and to thank you all for your considerable involvement in this incredible journey as we bring the more formal aspect of it to a close.
The Academy is proud to have been able to support this work, through the national meetings and annual posters and through providing a central repository for information sharing, communication, education and networking which will continue to be available. We hope to continue to provide this national platform to share good practice, actively working to ensure people's work is recognised, engaged with and taken forward positively.

3 years in brief
Sparked by a debate around the (then) new disease-modifying treatment (DMT) algorithm for multiple sclerosis (MS), a national conference was held in November 2018 called, 'The Way Forward: taking the first steps to end MS service variance'.
110 healthcare professionals gathered to listen to a range of expert speakers and to discuss practical solutions to the challenges presented. The meeting at large agreed that some formal approach to reducing unwarranted and unwanted variation was needed, and a number of volunteers stepped forward to lead a steering group. From this, Raising the Bar became a national ethos to improve the way services are designed, received and delivered in MS.
Mission statement:

'To improve MS services for all people with MS and their families, and to make delivering these services for all involved a rich and rewarding experience.'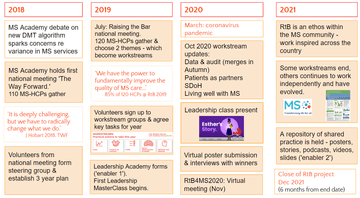 Figure 2: In brief: the Raising the Bar journey from 2018 to the present
At the second meeting in 2019, a sli.do poll opened proceedings to find that 85% of the 120 healthcare professionals in attendance agreed or strongly agreed with the statement:

'Those of us in the room have the power we need to fundamentally improve the quality of MS care in the UK, reduce variation and offer consistent care at the level we want everywhere, in the next 3 years.'
After hearing the steering group's proposed 3-year plan attendee chose to attend a focussed session on two of the five possible themes identified to take the plan forward:

audit,

data,

social determinants of health,

patients as partners

healthy lifestyle.
These themed groups, or 'workstreams', developed key aims for the coming year (fig 3).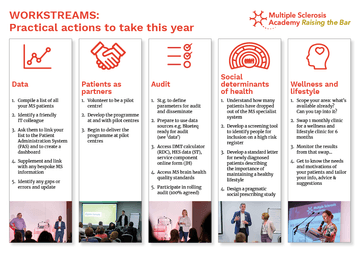 Figure 3: The key aims for 219-2020 as established as a result of thematic group sessions at July 2019's RtB meeting
Over the years these workstreams have delivered the overall 3 year plan (fig 1) but have also adapted and shifted according to changing needs and priorities and all have been instrumental in achieving the specific aims of the 3 year plan (table 1).
| Year | Key aim to achieve | What was done |
| --- | --- | --- |
| 1 | Quality audit rollout (by July 2020) | National service audit carried out 2019-2020. Reported on at RtB2020 (Nov 2020) written report circulated 2021. (Audit & data workstreams merged late 2019.) |
| 2 | Educational programme for people with MS rollout (by July 2021) | Shift.MS initially planned an online 'newly diagnosed' course and carried out development work for this. In response to users' needs and social changes (pandemic) they tailored their educational response to meet the identified needs and have a PPE for the Mind and a series on symptom management now available. |
| 3 | Holistic management of MS and 'no patient left behind' ethos (by July 2022) | Disease-modifying lifestyle resource nationally available. Clinical lifestyle questionnaire promoting holistic management now in pilot phase |
| Across RtB | Leadership education programme rollout | Leaders Academy developed (2019), first cohort of Leadership MasterClass began (2020) and graduated (2021). 10 applicants for a second cohort already received. |
| Across RtB | Sharing practice | All free access via MS Academy website: posters and projects across all MS-related courses and events; interviews with healthcare professionals, webinars & short vlogs. |
Inspiring and encouraging work around the country
In order to achieve the vision to Raise the Bar for MS, two distinct enablers were identified: leadership and sharing practice (fig 4).


Figure 4: Overview of 'Enablers' taken from the '3 year plan' for Raising the Bar
Developing real leaders
The Leadership Academy was one of the 'Enablers' outlined in the 3 year plan, and the first Leadership MasterClass graduated this month after an 18 month course, adapted to suit the changing requirements of the pandemic, was supported by sponsorship by Roche Products Limited. The sponsor had no control over the educational content of the activities.
The results of the MasterClass cohort's shared project was the concept of MSUnite shown brilliantly in their video, 'Esther's Story', and in addition to this shared output, each of the delegates has led real change in their own area.

MS nurse specialist Ruth Stross developed and rolled out a UTI home-testing kit to her MS patients in Surrey during the early months of the pandemic (fig 5), and is currently developing a Neurology Nurse MasterClass to improve education for, and encouragement to, clinical specialist nurses around the UK.
Figure 5: Image taken from academic poster 'Translating data into service change: Bladder & bowel management for MS' by Ruth Stross and Sue Thomas accessed here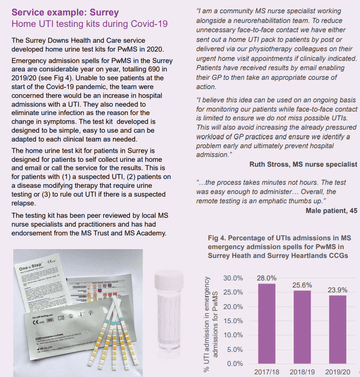 Consultant neurologist Ian Pomeroy, who has changed his style of working significantly and was recently asked by a team member if he had 'been on a leadership course', has spearheaded a stakeholder-led initiative to adapt the national OPTIMUM care pathway for MS to his local services.
MS coordinator Jenny Ledsam is now looking at education for MS coordinators across the country, working with national organisations to encourage greater understanding of the integral role of the coordinator to MS services. This is supported by the OPTIMUM care pathway for MS, which highlights the MS coordinator as an essential first and central point of contact for an individual with MS (fig 6).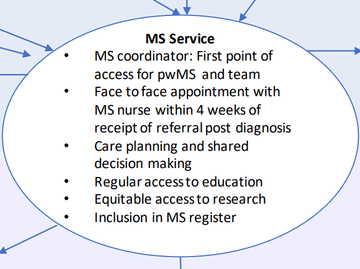 Figure 6: The overview care pathway for the OPTIMUM care pathway for MS
Poster sessions
To raise the bar for MS nationally, it was recognised early on that sharing practice, encouraging each other, and making sure learning was widespread would be an important enabler. Something done well at a regional level through clinical networks and local collaborations, Raising the Bar sought to make this easier to do at a national level.
One way to do this was through the poster sessions at each national meeting. Healthcare professionals from different roles and backgrounds were urged to share their insights, learning and experiences at a national level, whether small quality improvement projects or large-scale service development.
Pharmacist Natasha Hoyle won an award for her work auditing the local DMT service which encouraged staff, and led improvements in documentation and employment of a DMT coordinator.
Neurologist Riffat Tanveer won the runner up award for his poster looking at neurology trainee's views on taking on MS as a subspecialty. He has become a speaker on the MS Basecamp as a result, using his learning to encourage the next generation of MS specialists.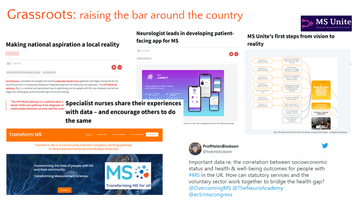 Figure 7: MS service innovation and improvement initiated and led by healthcare professionals around the country
Inspiring local practice
Raising the Bar as a concept was imagined, initiated and led by healthcare professionals, and raising the bar in practice on the ground was made possible by the community of healthcare professionals who engaged with that ethos.
The more formal practice-sharing through the posters was also supported by ad hoc information-sharing throughout the year, with all members of the MS community given a platform to share their experiences through MS Academy's open access 'projects' section.
A brilliant example is from two specialist nursing colleagues in the North of England. Gale Metcalfe and Audrey Owen were supported to understand and use data, have transformed their services as a result (fig 8), and are keen to encourage others to do likewise.

'It became a bit of a Northern venture - we've shared information along the way and had a lot of help. We're happy to help others too. It's very do-able, finding different approaches, it can just look daunting to start with!'
Gale Metcalfe, MS nurse specialist, Leeds Teaching Hospitals NHS Foundation Trust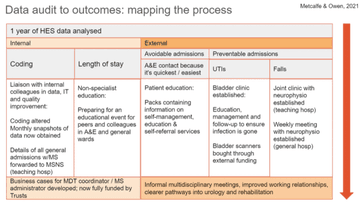 Figure 8: Gale and Audrey's audit and the outcomes it prompted (full information online)
Related articles
Encouraging excellence, developing leaders, inspiring change
MS Academy was established five years ago and in that time has accomplished a huge amount. The six different levels of specialist MS training are dedicated to case-based learning and practical application of cutting edge research. Home to national programme Raising the Bar and the fantastic workstream content it is producing, this is an exciting Academy to belong to.