'The British MS Healthcare Professionals Society'
MS Academy offers a unique opportunity for healthcare professionals to receive expert training in multiple sclerosis (MS).
Search MS Academy MasterClasses and Events
Encouraging excellence, developing leaders, inspiring change
MS Academy was established in 2016 and in that time has accomplished a huge amount. The six different levels of specialist MS training are dedicated to case-based learning and practical application of cutting edge research. To date over 2,300 professionals have received some form of MS training through our MasterClasses, roadshows, webinars and other educational offerings.
Home to national programme 'Raising the Bar for MS' with over 300 healthcare professionals actively engaged in the initiative, this is an exciting Academy to belong to.

Healthcare professionals have come together from across different backgrounds, localities, experiences and service models to develop our courses. MS Academy has a valued Faculty of passionate professionals who continually refine and update the content and style of our courses to maximise their relevance and practicality.
MS Academy supports the national programme 'to improve MS services for all people with MS and their families, and to make delivering these services for all involved a rich and rewarding experience'. Each delegate to complete an MS MasterClass is invited to join the 300-plus healthcare practitioners engaged in this national initiative to 'raise the bar' for the MS community. FIND OUT MORE
Every Academy seeks to equip its healthcare professionals to effect change in their locality. However, through 'Raising the bar', MS Academy began to recognise that affecting change often demands, not only a combination of passion and knowledge, but that complex and varied skill set: leadership. In response, we developed the Leadership MasterClass. FIND OUT MORE
Forthcoming MS Academy MasterClasses and events...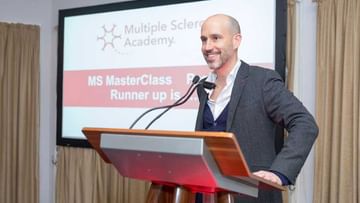 MS Foundation MasterClass 19 - Module 1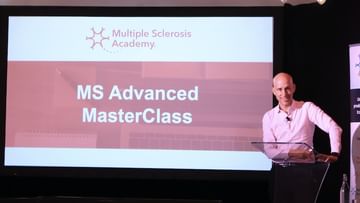 MS Advanced MasterClass 20 - Module 1
---
On Demand Webinars
Miss out on a webinar? Had to leave an event before a keynote speaker? Our catalogue of on demand sessions ranges from short videos and podcasts, to webinars and full events, giving you an opportunity to learn and develop in the areas that matter to you, in your own time...
---
About
MS Academy offers a unique opportunity for healthcare professionals to receive expert training in multiple sclerosis (MS).
Following in the successful footsteps of the Parkinson's Academy which was established in 2002, MS Academy delivers an innovative educational programme in the field of MS. The MasterClasses aim to provide a structured training programme for clinicians who seek formal training in both the clinical and managerial aspects of running an 'MS service'. The educational style of the Academy provides unique clinical skills enhancement and service development.
Designed to advance your skills, expertise and understanding in a meaningful way, our courses aim to deliver a learning experience that extends beyond the 'classroom' and will directly impact your professional practice.
With an array of inspirational speakers drawing on their practical experience, course attendees can develop in everything from clinical expertise to patient focus, service delivery to cutting-edge treatment options.
By giving you the knowledge, tools, and a network of like-minded peers, the MS MasterClasses aim to equip you to increase in confidence, ability and passion, so that you can be part of the drive to deliver optimal care and support for people living with MS.
Excellent course with eminent faculty, lots of interaction, and a balance between clinical and service development training
MasterClass feedback
MS Academy draws on the expertise of leaders in the field who deliver top quality education in small groups of 20 and a relaxed atmosphere. The courses have the input from a range of disciplines, and of course from patients themselves.
Not only does the Academy provide updates on the evidence base for managing MS and practical support on how to develop an MS service, the course is also an invaluable opportunity to establish an ongoing network of peer support – not just in MS but in other neurological conditions too.

Thanks for all your hard work – it will undoubtedly make a difference to the lives of patients
MasterClass feedback
Dr David Paling welcomes you to the MS Academy
Covered important clinical issues relating to drug therapies and in particular escalation therapies. Very interactive, lots of debate and discussion
Dr David Paling, Honorary Strategic Director
Advanced training also includes a mentorship programme, which means that individual support continues even after the residential course has finished.
An integral part of the MS MasterClass is the intermodule project. Attendees undertake a workplace project on an issue within their own area. This might be around service delivery, patient management or an aspect of drug management and might involve a service description, an audit or research. Suggested topics include UTI in MS, falls, fractures and bone health, education around PML risk and monitoring, advanced directives, comorbidity screening and lifestyle issues.
The project concludes with presentation to the course members and Faculty in Module 2. This project is a required piece of work which completes the CPD sign-off for the course. To get an idea of what a project might entail you can see projects completed by attendees.
The Academy MasterClass programmes are approved by the Federation of the Royal Colleges of Physicians of the United Kingdom. MS MasterClasses are usually awarded 30 category 1 (external) CPD credits. Please note that the credits are subject to approval of the final programme.
"The MS Academy is a tremendous vehicle for educating and up-skilling healthcare professionals caring for people living with MS"
Dr Wallace Brownlee, Honorary Academic Director
Dr Wallace Brownlee introduces the MS Academy
Supporters
Our work is made possible because of the wider support we receive, and we are incredibly grateful. Thanks to that support, we are transforming healthcare and changing the lives of people living with neurological conditions.
Become a supporter
---
Articles
MS Academy
News and articles
04 Dec 2023
Posted in
News
27 Oct 2023
Posted in
News
---
People
Academy and Faculty leaders
We are led and supported by experts with a variety of backgrounds across a range of disciplines. By bringing different passions to the Academy, they ensure we maintain a high quality of content and information across a diverse field of knowledge.
---
Projects
All MasterClass attendees carry out a workplace project as a key part of the course.
All two-module MasterClasses include an intermodule project. This is a workplace project that attendees complete as a key part of the course.
Attendees have free reign over this project. It might be service delivery, patient management or drug treatments, and it could take the form of a service description, an audit, or another form of research. It should meet a local need.
When complete, the project closes with a presentation to the other course members, faculty, and often their managers, commissioners or other people of influence in their area. The group chooses a winner and runner up who receive an award at an evening event, and all projects are shared in our resources section.

---
Resources
Multiple Sclerosis resources and knowledge
Access a collection of resources for MS professionals, including COVID-19 information, webinars, podcasts, event reports and an archive of MS Academy newsletters.